If you choose Philippines as a destination for your summer, do not miss the opportunity to enjoy super-cheap, delicious street food in this hospitable country.
The street vendors are popular images of the Philippines. Here, you can find countless flavors of passion, cheap price to surprise. The joy of the trip is sometimes simply a good meal …
Orange cake like eyes made from boiled eggs dipped in flour and deep fried. Version for quail eggs called Tokneneng. This delicious fried dish is served with sweet and sour sauce or a special vinegar.
A stretched banana, wrapped in caramel brown sugar, skewered on a sharp stick is an ideal snack as well as an ideal dessert for any visitor who is visiting the Philippines street.
Isaw is also a barbecue, but Isaw has the main ingredient is clean pork or chicken organs, marinated thoroughly then skewered into bamboo sticks and grilled to perfection. Few can deny the appeal of these skewers.
Exactly, Adidas is a grilled chicken leg dish. And wherever it is, food is a favorite of many people. A bit of aromatic taste will be more perfect when it comes to spicy gravy.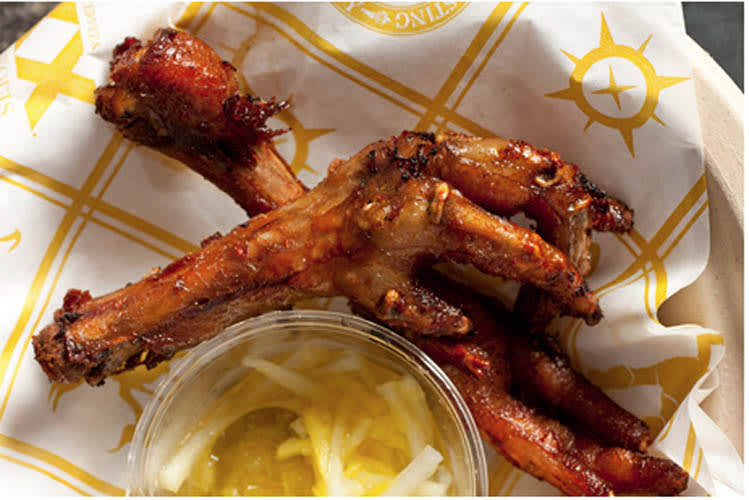 The common name does not mean that the corn in the Philippines is processed normally, or at least only brings a sense of moderate taste. This is a really creative dish when corn is wrapped in a plastic cocoon and then boiled until its wonderful aroma awakens the senses. Corn seeds extracted from the core are greatly enriched with salt, margarine or cheese, giving a stimulating taste to enchantment.
Turon is indeed a sweet pleasure. A roll of eggs is covered with sugar, rolled over a hot pan to cover the brown sugar coating on the crust. This unique way of eating brings a richer taste than you think.